•
[Talk Sport] - Transfer battle: Manchester United and Juventus in fight to sign Monaco star next summer
... e World Cup in Russia. And, according to Tuttosport, it will be Juventus and Manchester United fighting it out to try and sign the 24-year-old. United have...
•
Zinedine Zidane warns Real Madrid they will have to improve to taste Club World Cup glory after Al Jazira scare

Real take on Brazilian side Gremio on Saturday after goals from Cristiano Ronaldo and Gareth Bale secured their final berth
•
Real Madrid star Gareth Bale 'not 100%' fit ahead of Fifa Club World Cup final and Barcelona clash
Real Madrid star Gareth Bale has admitted that he is still not ready to play 90 minutes ahead of the Fifa Club World Cup final against Gremio on Saturday.
•
Cristiano Ronaldo furious with three Real Madrid team-mates
CRISTIANO RONALDO has been angered with three of his Real Madrid team-mates following their win over Al Jazira.
•
What channel is Real Madrid vs Gremio? Kick-off time, live stream details and more ahead of FIFA Club World Cup final

Holders Real face Brazilian Copa Libertadores winners in Abu Dhabi
•
Zinedine Zidane Backs Karim Benzema, Says He Won't Ask to Sign a Striker
Real Madrid manager Zinedine Zidane has revealed he will not ask to sign a striker in the January transfer window despite Karim Benzema's ongoing struggles. ...
•
Putin says confident Russia to be ready to host 2018 World Cup
MOSCOW (Reuters) - President Vladimir Putin said on Thursday he was confident that Russia would have everything ready to host the 2018 soccer World Cup as it...
•
Wolves' Romain Saïss: Busquets is an inspiration - his positioning, his simplicity'
Morocco midfielder who bases his game on the Barça player is relishing facing his idol at the World Cup after reviving his career under Nuno Espírito Santo...
•
Cristiano Ronaldo's brilliant reaction to Lionel Messi chant during Real Madrid's Club World Cup semi-final

Fans in the United Arab Emirates sang the Barcelona man's name towards Ronaldo and he responded exactly as you'd expect him to
•
Milan, Manchester, Barcelona: How Kaka Won the 2007 Ballon d'Or Ahead of Ronaldo
I In September 2006, Brazil's national football team circus pitched up in London. They were in town to help launch Arsenal 's new Emirates Stadium. Their...
•
Arsenal transfer news: £35m fee agreed' for Sevilla's Steven N'Zonzi
Description  Sevilla midfielder Steven N'Zonzi in action against Maribor in the Champions League  Credits  Cristina Quicler/AFP/Getty Images Alt Text ...
•
Real Madrid news: Zinedine Zidane fumes after video assistant referee mistake
REAL MADRID manager Zinedine Zidane was livid after his team were on the wrong side of a video assistant referee mistake.
•
Lionel Messi: Barcelona star plots Cristiano Ronaldo demise next year
LIONEL MESSI reportedly has a plan to prove to Cristiano Ronaldo once and for all that he is the greatest football of all-time.
•
Nike Brazil, Croatia, England, France & Portugal 2018 World Cup Home + Away Kits + USA & Chile 2018 Jerseys Leaked
Update: Thanks to kit experts from Todo Sobre Camisetas (Spanish for All About Football Shirts), we are able to get a full look at all Nike 2018 national team...
•
Bale rescues Real from Al-Jazira upset
Gareth Bale came off the bench to book Real Madrid's place in the Club World Cup final as the European champions recovered from the shock of going behind to...
•
Cristiano Ronaldo TAUNTED by Lionel Messi chant... His reaction was hilarious
CRISTIANO RONALDO helped Real Madrid into the FIFA Club World Cup final with a 2-1 win over Al-Jazira earlier today, but he was mocked by Lionel Messi chants...
•
Trump undermines democracy with media attacks, says Cameron
Former British PM says US president should focus on actions of Russia rather than attacking CNN and BBC for fake news David Cameron has accused Donald Trump of...
•
Ronaldo and Bale spare Real's blushes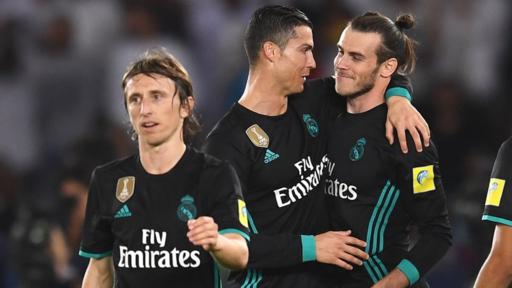 Real Madrid's Cristiano Ronaldo and Gareth Bales spare the Spanish champions' blushes after they come from 1-0 down to win 2-1 against Abu Dhabi's Al Jazira in...
•
Fans think Cristiano Ronaldo tried to 'steal' Gareth Bale's goal in Club World Cup semi-final

The Real Madrid aces were both on the scoresheet as the Spanish giants advanced to Saturday's final, but one almost denied the other the winner
•
Ronaldo And Bale Goals See Real Madrid Past Al Jazira In Club World Cup: Next Up Gremio In Final
A year ago, Japan's Kashima Antlers broke the European-South American duopoly in the Club World Cup Final. But we're back to the usual suspects after Gremio...