•
Worshippers To Wear Hard Hats At Notre Dame's First Mass Since Blaze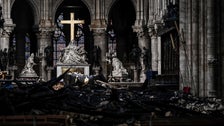 The intimate service in the cathedral's side chapel will be limited to roughly 30 people, media included.
•
Donald Trump And Emmanuel Macron's Friendship Tree Is Dead, So Macron Is Sending Another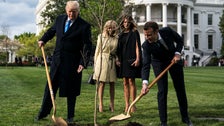 We will send him another, it is not a tragedy," said the French president.
•
Why The United States Will (Or Won't) Win The 2019 Women's World Cup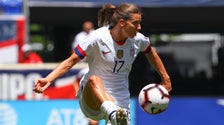 The U.S. Women's National Team is chasing its record fourth World Cup title this summer in France.
•
World Leaders Mark 75th Anniversary Of D-Day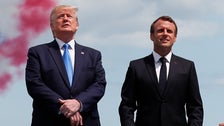 Emmanuel Macron and Donald Trump delivered speeches paying tribute to the thousands of Allied troops who landed in Normandy on June 6, 1944.
•
Diversity Wins At Cannes Film Festival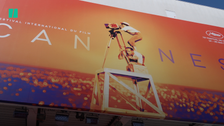 Director Mati Diop made history as the first black woman ever to win at the Cannes Film Festival. In the past, the film festival has been called out for a lack ...
•
The Best Women's World Cup In History Is About To Begin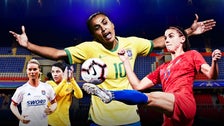 The 2019 tournament will be a testament to the growth of women's soccer and an argument for even more investment in the game.
•
Suspected Package Blast In France Injures 7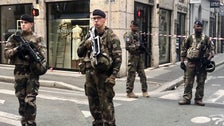 The French anti-terrorism office is investigating the explosion on Friday in Lyon.
•
Climber Shuts Down Eiffel Tower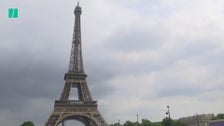 A man shut down the Eiffel Tower in Paris, France after climbing almost 900 feet up the tourist attraction.
•
Architect I.M. Pei Dead At 102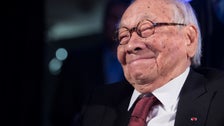 The world-renowned architect was known for iconic structures such as the Louvre Pyramid in Paris.
•
Michael Jackson's Son Prince Celebrates College Graduation With Brother Blanket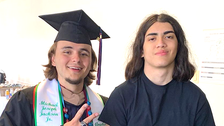 The late pop star's oldest child enjoyed the pomp and circumstance amid a rare public appearance by his youngest sibling.
•
UN Chief Warns World Is Not On Track' To Meet Paris Climate Change Target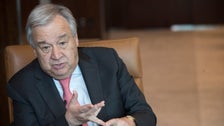 Secretary-General Antonio Guterres said Sunday that "political will seems to be fading" even as the impacts of climate change become more pronounced.
•
Joe Biden Looks To Revive Obama's Climate Plan. Scientists Say That's Not Good Enough.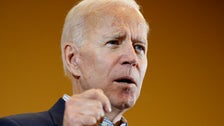 The 2020 Democratic candidate's plan to tackle the climate crisis, which he's called an existential threat, reportedly includes a role for fossil fuels.
•
French Ambassador On Donald Trump: A Big Mouth' Who Reads Basically Nothing'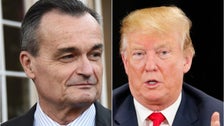 Gerard Araud also called former President Barack Obama the ultimate bureaucrat and a bit aloof."
•
We Can't Bee-lieve These Bees Living On Notre Dame's Roof Survived The Fire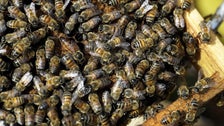 Thousands of bees in three hives atop the famed cathedral will live to buzz another day.
•
What You Didn't Know About Notre Dame's History Through 9 Centuries
Here's why saving the cathedral in Paris is so important.
•
Paris Officials Consider Building Temporary Wooden Cathedral Outside Notre Dame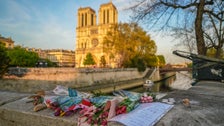 Monsignor Patrick Chauvet, the cathedral's chief priest, wants to build an "ephemeral" building on the Notre Dame's esplanade while construction takes place.
•
Electrical Short-Circuit Likely Caused Notre Dame Cathedral Fire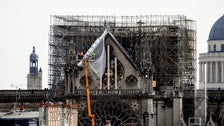 The investigation into what caused the blaze at Paris' iconic cathedral is still ongoing.
•
Trump Says He Offered His 'Great Experts' To Pope Francis, Macron To Rebuild Notre Dame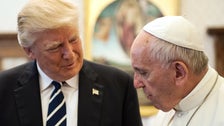 The president said he spoke with the Roman Catholic leader to offer his condolences over the destruction at the iconic Paris cathedral.
•
France's Billionaires And Others Pledge $700 Million To Restore Notre Dame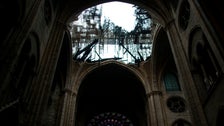 The wealthiest families and companies in France vowed to use their riches to restore the fire-damaged Paris cathedral.
•
Before And After Photos of Notre Dame Cathedral Show Fire's Devastation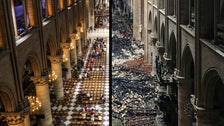 Rebuilding the iconic cathedral will take a lot of work.
•
France's Macron Pledges To Restore Notre Dame Within 5 Years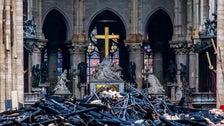 Emmanuel Macron vowed to make the fire-damaged cathedral even more beautiful.
•
Book Sales For The Hunchback Of Notre Dame' Soar In France After Cathedral Fire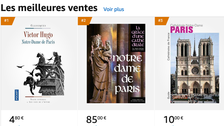 The classic novel shot to the top of Amazon France's bestseller list after a massive blaze overtook the famed Paris church.
•
Pope Francis Responds To Fire At Notre Dame Cathedral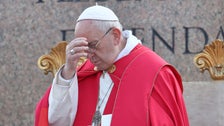 The pope expressed his closeness to the people of France as Paris' iconic centuries-old cathedral was devastated by flames.
•
What Burned And What Was Saved In Fire That Consumed Notre Dame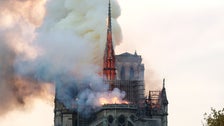 The famed Paris cathedral sustained colossal damage, but its main structure and at least some of its treasured relics and artworks survived.
•
François-Henri Pinault, Family Pledge $113 Million To Rebuild Notre Dame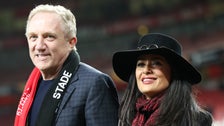 "I love you, Paris," Pinault's wife, actress Salma Hayek, wrote on Instagram.